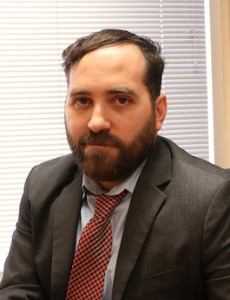 Peter D. Valenzano, Esq.
I strongly believe that everyone deserves a voice – especially those who have unfairly lost their job due to the insidious and shameful discrimination of their employer. I became an employment lawyer so that I could speak up for and defend workers who are unable to defend themselves against the disproportionate power of their employer. As an associate attorney at Mashel Law, I am proud to say I am a member of a team of lawyers who are deeply committed to representing workers who have been denied their right to work in a safe and harassment free work environment.
Before I began my legal career, I worked for United Cerebral Palsy as a Medicaid Service Coordinator providing access to social services to families caring for loved ones with disabilities and special health care needs in the New York City boroughs of Brooklyn, Bronx, and Manhattan. There, I learned how to effectively advocate for a vulnerable population.
I began my journey to the field of law when I received my J.D. from Touro Law Center in 2010. I am licensed in New Jersey State and Federal Courts, the State of New York, and the Federal Court for the Southern and Eastern District of New York.
I served as President of the Touro Law Center Student Bar Association from 2009-2010. Upon graduation from law school, I was awarded the Excellence in Contribution to the Growth of the Law Center Award by the administration and faculty of Touro Law Center. Additionally, I served as the Notes and Comments editor of the Touro Law Center International Law Review and received an award in 2009 for Academic Excellence in the Study of International Human Rights.
Prior to joining Mashel Law, I was an associate at a large law firm in Essex County, New Jersey where I focused on both transactional and litigation matters with a strong emphasis in the healthcare sector.
Throughout my years as a lawyer I have successfully litigated against international corporations, counties and municipalities, the State of New Jersey, and even our own Federal Government. In addition, I routinely represent public employees such as teachers, police officers, and corrections officers when they are being unjustly brought up on phony disciplinary charges. For employees being offered a less than adequate severance agreement, I regularly advocate on their behalf seeking an enhancement and have had great success in doing so.
I do not shy away from complex litigation matters. In addition to litigating employment discrimination matters, I have successfully litigated personal injury matters, consumer fraud matters, shareholder disputes, partnership disputes, and the enforceability of restrictive covenants.
Beyond my passion for litigation, I have considerable experience representing small businesses, partnerships, and sole proprietors in transactional work, such as preparing employment agreements, operating agreements, shareholder's agreements, partnership agreements, stockholder agreements, and by-laws. I have also successfully negotiated several sales, mergers, and acquisitions on behalf of small and mid-size businesses within the State of New Jersey.
Because of my dedication to protecting the rights of employees, I serve on the Board of Directors of the New Jersey Chapter of the National Employment Lawyer's Association and maintain membership in the New Jersey Association of Justice, groups which are committed to protecting individuals' rights both in the workplace and throughout society. I am also a member of the Sidney Reitman Employment Law American Inn of Court and Monmouth County Bar Association.