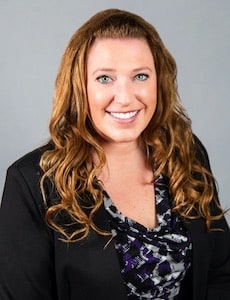 Amy C. Blanchfield
As an associate attorney at Mashel Law, I am devoted to protecting vulnerable employees from unlawful and unethical employer practices. In doing so, I zealously advocate for the rights of workers who are treated unjustly. Our dedicated team of lawyers work long, hard and effectively to obtain for our clients the recoveries they deserve. This is the way we practice law and represent clients at Mashel Law.
My interest in the world of business and its inner workings led me to pursue a Bachelor of Science degree in Business Management from the University of Scranton which I attained in 2008. Thereafter, I gained valuable insight working for Bank of America in Charlotte, North Carolina. Bank of America is currently ranked the second largest bank in the United States, with over 2.1 trillion dollars in assets. I primarily worked in the Trade Support Department. My day-to-day operations included assisting traders with the buying and selling of mortgage-backed securities. It was through my experience at Bank America that I came to learn and appreciate that the greatest asset a company has is the employees who comprise its workforce.
My passion to become a lawyer culminated in 2011 with my receiving a Juris Doctorate degree from the Widener University School of Law. During my years of study at law school, I was a Legal Intern for the Honorable Bruce F. Bratton in the Dauphin County Court of Common Pleas. There, I assisted in various general civil litigation cases. I also interned with the Honorable Teresa Kondrup-Coyle of the New Jersey Superior Court in Monmouth County during summer recess.
I am licensed to practice law in the State of New Jersey and the United States District Court for the District of New Jersey. I have obtained valuable experience and developed the skills necessary to effectively represent employees who have been discriminated in violation of the New Jersey Law Against Discrimination, or suffered retaliation for having engaged in protected whistleblowing activities. Prior to joining Mashel Law, I was an associate attorney for Devero Taus, LLC, a private law firm located in Somerset County, New Jersey. During my employment there, my practice largely focused on employment and labor law. Devero Taus gave me the opportunity to represent both employees and small businesses in employment related litigation.
At Mashel Law, I have continued to work on behalf of workers who have been stripped of the rights that protect them under our federal and state employment laws. I also defend public employees who have had bogus disciplinary charges filed against them. I also handle all aspects of unemployment insurance claims including Appeal Tribunal Hearings, and further appeals up to the Board of Review, and New Jersey Superior Court, Appellate Division, if same is necessary. If you believe your legal rights have been violated by your employer, give me a call at (732) 536-6161 or fill out the contact form on this page.
I am a proud and devoted member of the National Employment Lawyers Association in New Jersey, New Jersey State Bar Association, Monmouth County Bar Association and the American Bar Association.
On a personal note, I live with my husband and son in Central New Jersey. I enjoy horseback riding, spending time with my family and am an avid New York Mets fan.