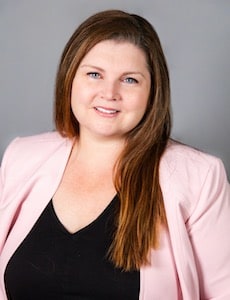 Elizabeth M. Trottier
My life's work is dedicated to helping people during difficult times. I am a hands-on problem solver with compassion, care, and sensitivity to the needs of clients going through what can often feel like a low point in their careers and lives. Employment is such a critically personal and fundamental part of a person's life. Losing a job can be awful and traumatic especially if it stems from unlawful retaliation or discrimination. As an associate attorney at Mashel Law I fight hard for people whose rights have been violated. If you believe you are the victim of unlawful retaliation or discrimination, call me at (732) 536-6161 or fill out the contact form on this page.
My path to becoming a New Jersey employment lawyer started in Central Connecticut where I was born and raised. I moved to New Jersey to attend Seton Hall Law School after graduating from College of the Holy Cross with a Bachelor of Arts in 2000. During law school, I earned a joint Juris Doctorate in law and Master of Arts degree in international relations and diplomacy. After my first year of law school, I spent a summer studying law in Cairo, Egypt, and traveled to Port-au-Prince, Haiti on a service and mission trip to help the poor. I also attended several Preparatory Commissions at the United Nations for the establishment of the International Criminal Court.
Following graduation from Seton Hall Law School in 2004, I clerked for the Honorable Margaret Mary McVeigh, who was the presiding Chancery Judge of the Passaic County Superior Court.
Before joining Mashel Law, I worked at a general practice firm for 12 years litigating a wide range of state court cases, including employment claims representing both employers and employees. I have handled personal injury cases including wrongful death, slip and falls, auto accidents, dog bite cases, consumer fraud, construction liens, real estate disputes, will contests, contested estate administrations, contested guardianships, landlord-tenant, and municipal court matters.
Civic engagement is important to me. I serve as a Member-at-Large for the Board of Directors at the Girl Scouts of the Jersey Shore, and I am a lifetime Girl Scout for over thirty (30) years, and a Gold Award honoree. In 2017, I was honored with the Council President's Award and then later that year as a "Phenomenal Woman Under 40." I love helping to mentor young women achieve their goals and become leaders.
Since moving to New Jersey, I have lived in Essex County, Bergen County and Monmouth County. I have fallen in love with New Jersey and all it has to offer. In my free time, I enjoy spending time with my husband, daughter, and our rescue Chihuahua.
In 2015 I was admitted to practice before the United States Supreme Court. I am a member of the New Jersey Association for Justice, the New Jersey State Bar Association, and the Monmouth County Bar Association.