Severance Agreements
Do not Sign a Severance Agreement Before Having It Reviewed by an Experienced Employment Law Attorney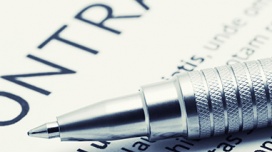 A severance agreement or separation agreement is, at its core, a contract between an employer and an employee where an employer typically provides the employee with a monetary package on the way out. But as the saying goes "nothing is free" and in nearly every circumstance, the employee must give up substantial legal rights in exchange for the benefits provided in the agreement - the most important of which is the right to sue the employer for being wrongfully discharged. This means you are giving up your constitutionally protected right to sue and to go to trial before a jury to prove that your former employer subjected you to unlawful discrimination or retaliation. Given this, you should not agree to give up such important rights without first consulting with a skilled and experienced employment attorney such as those lawyers who work at Mashel Law.
Employers are not required to provide separation agreements but often do in order to protect themselves from liability. If your employer has offered you a separation agreement you should carefully read the agreement and make sure you are not giving up more than you are getting in return. As mentioned above, a separation agreement requires an employee to waive his/her legal rights. Such rights released include the right to sue for all acts of discrimination, whistleblower retaliation, family leave violations, wage and hour violations, and a whole host of other unlawful acts. Additionally, severance agreements often contain draconian confidentiality clauses, non-disparagement clauses, and liquidated damages clauses, all designed to ensure that the employee does not disclose or discuss the terms of the separation agreement.
Under the federal Older Workers Benefit Protection Act (OWBPA) which is part of the federal Age Discrimination in Employment Act an employer is required to provide a 21 day or 45 day attorney review period in any severance agreement offered to an employee who is age 40 or older. The agreement must also contain a seven (7) day revocation period. The more extended 45 day period is required when two or more workers age 40 or older are being laid-off. When you are being laid-off as part of a group or unit affected by a reduction-in-force lay-off (RIF), the severance agreement must also inform in writing what the eligibility factors were/are for inclusion in the RIF, the time limits applicable to the RIF, the job titles and ages of all individuals who are eligible or who were selected for the RIF, and the ages of all individuals in the same job classifications or organizational unit who are not eligible or who were not selected for the RIF. Failure of an employer to adhere to the OWBPA could mean that the release language in the agreement applicable to age discrimination claims under federal law would be deemed invalid by a court.
As an employee who has been offered a severance agreement because you have been, or are about to be, fired or laid-off, it is critically important that you consult with an experienced employment law attorney in order to review the facts and circumstances underlying your separation from employment so that the lawyer can determine if you have a viable discrimination or retaliation claim. This must be done before you go ahead and sign away your right to sue over your discharge.
If given an opportunity to do so, the lawyers at Mashel Law will attempt to negotiate an enhancement of the severance agreement which can include, but not be limited to, a greater monetary payout to you, the employer paying your COBRA health insurance premiums, non-disparagement language favorable to you, a positive or neutral reference, and an agreement not to oppose your application for unemployment insurance benefits. At Mashel Law, our attorneys have years of experience reviewing and negotiating severance agreements for employees. We know how to communicate with the employer to make it clear that you, the employee, are giving up substantial rights and deserve to be properly compensated for it. Time is of the essence so contact us at (732) 536-6161 or fill out the contact form on this page.