Wrongful Termination
Wrongful Termination Is Unlawful in New Jersey
Wrongful termination is a term that generally refers to a person being fired illegally. Many terminations that people think of as "wrongful" are not illegal. In most states, employment is "at will". This means that the employer can fire the employee for no reason or any reason. However, there are two main reasons why a termination may be illegal: discrimination or retaliation.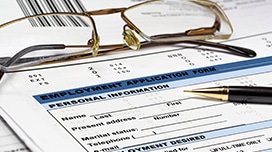 Employers cannot discriminate against employees on the basis of their protected class characteristics: age, race, sex, national origin, religion, disability, sexual orientation and a variety of other reasons. Employers also cannot retaliate against an employee because he or she has "blown-the-whistle" by reporting what they reasonably believe to be illegal activity of the employer or a co-worker. Employers also cannot retaliate against an employee for engaging in other protected activities such as pursuing workers' compensation benefits or requesting family leave time off.
Do I Have a Case?
Employees are laid off every day in companies that are downsizing or because their employers decided to go in a different direction. Nonetheless, employees in New Jersey are protected under this state's broad and liberally interpreted employment laws.
If you think you've been wrongfully terminated, you may be able to bring a legal claim against your former company. While not all wrongful termination cases are successful, if the court or a jury rules in your favor, you may be eligible to receive reinstatement, back pay, front pay, emotional distress damages, punitive damages, and attorneys' fees.
Guidelines for Making a Case
Because successfully proving a wrongful termination lawsuit requires persuasive evidence and good lawyering, you should not hesitate to consult the experienced employment lawyers at Mashel Law if one or more of the following applies to you:
You believe you were terminated or suffered some other form of punishment after you disclosed to your employer your reasonable belief that a co-worker or the company has or is engaging activities which violate law, regulation, codes of professional conduct or public policy (i.e. whistleblowing).
You believe you were terminated for complaining about or refusing to perform an illegal or unsafe act for your employer.
You believe that you have been the victim of discrimination because of one or more protected class characteristics you possess such as your race/color, sex/gender, national origin/ethnicity, religion/creed, age, pregnancy, marital status, disability, or sexual orientation.
You believe you were terminated or suffered some other form of punishment after complaining about sexual harassment or some other form of abusive conduct on the job.
You believe you were terminated or suffered some other form of punishment after requesting a reasonable accommodation for a disability, or a serious medical condition.
You believe you were terminated or suffered some other form of punishment after you requested family leave time off in order to tend to the illness of a child or your own serious medical condition.
You believe your employer violated their company's stated termination policies (for example, you did not receive two written warnings, and your employee handbook specifically states that each terminated employee should receive such.)
You believe you were terminated in violation of a contract or explicit promise concerning the duration of your employment or the circumstance under which you could be terminated.
You believe it is going to take many months or years to find comparable employment and thus the economic harm you are going to suffer is significant.
You have sustained serious emotional injuries as a result of how you were treated at work.
You are an older worker who worked for the employer for many years, and now all of a sudden the employer is complaining about your performance.
The employer has offered you some severance benefits but wants you to sign a Separation Agreement containing a release giving up your legal rights.
If you believe you have been wrongfully terminated, call the lawyers at Mashel Law (732) 536-6161 or fill out the contact form on this page. Mashel Law located in Marlboro, New Jersey, is dedicated exclusively to protecting the rights of employees.