Whistleblower Claims
New Jersey's Whistleblower Law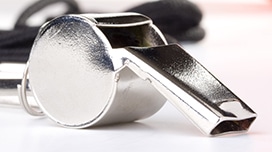 New Jersey's Conscientious Employee Protection Act (CEPA) statute has been described as the most far reaching "whistleblowing statute" in the nation. CEPA was enacted to protect employees from retaliation after they disclose or object to ("blow the whistle") activities of a coworker or employer which they reasonably believe are unlawful or are contrary to federal or state public policy. Also, CEPA prohibits an employer from retaliating against an employee who is a licensed medical professional who discloses, objects or refuses to participate in any activity, policy or practice which the employee reasonably believes is contrary to the health and safety of a patient. CEPA allows an employee to use various avenues to recover damages including reinstatement, lost wages, punitive damages, reasonable costs, and attorney's fees.
The purpose of CEPA can be further understood by comments made by former Governor Thomas Kean when signing CEPA into law:
"It is most unfortunate, but nonetheless true, that conscientious employees have been subjected to firing, demotion or suspension for calling attention to illegal activity on the part of his or her employer. It is just as unfortunate that illegal activities have not been brought to light because of the deep-seated fear on the part of an employee that his or her livelihood will be taken away without recourse".
To establish a CEPA violation, a Plaintiff is required to show: (1) a reasonable belief that the employer's conduct was violating either a law, rule, regulation, or public policy; (2) she performed a "whistle blowing" activity; (3) an adverse employment action; and (4) a causal connection. See Kolb v. Burns, 320 N.J.Super. 467, 477-78 (App. Div. 1999). Under the first prong, the trial court must first determine as a matter of law whether the plaintiff has identified a source of law or public policy that relates to the "complained-of" conduct. See Dzwonar v. McDevitt, 177 N.J. 451, 464 (2003); Mehlman v. Mobil Oil Corp., 153 N.J. 163, 186 (1998). Once the trial court does so, the jury is then asked to determine as a question of fact whether the plaintiff reasonably believed that her employer was violating the identified law or public policy. Id.
Let's discuss the case of client DG who found recourse in the protections provided by CEPA. DG worked for Pill Box Corp, a large pharmaceutical company as a Quality Assurance Director. DG's job was to ensure that Pill Box's drugs were manufactured in strict adherence to United States Food and Drug Administration (FDA) guidelines and industry best practices. DG had a demonstrated work history of superior performance. However, a week before his position of employment with Pill Box was terminated, DG had reported to Joe Malady, his direct boss and Senior Vice-President of Operations, that a large batch of recently manufactured antibiotic pills worth millions of dollars had been delivered to customers without first having been properly sample tested and certified as required by the FDA.
DG told Malady that FDA regulations required that he as Quality Assurance Director report any quality control violations to the FDA immediately upon discovery. Malady told DG not to do anything until he had an opportunity to discuss the situation with Pill Box's CEO, which would not be until the following day at the earliest. DG told Malady that he could not wait until the next day to report the violation for it was his belief that to do so would violate applicable FDA regulations. In response, Malady immediately suspended DG claiming insubordination. A week later Dave was informed his position of employment with Pill Box had been terminated. Upon learning this, DG contacted an employment law firm such as Mashel Law and asked whether Pill Box violated New Jersey's CEPA whistleblower law when they fired him. He was told they did. Thereafter, the law firm filed a wrongful discharge claim on behalf of DG who later recovered a large settlement from Pill Box.
If like DG you have been or are a victim of retaliation for having disclosed or objected to your employer's conduct which you reasonably believe violates the law, regulation or a public policy, do not hesitate to contact the attorneys at Mashel Law, L.L.C. Do not delay because you only have one (1) year from the date you were fired or otherwise suffered retaliation in which to file a lawsuit under CEPA.
Mashel Law, located in Marlboro, New Jersey, is dedicated exclusively to protecting the rights of employees.