Discrimination Claims
Unfortunately work place discrimination is a problem that is all too common. Discrimination in the work place occurs when certain employees are treated differently or worse by their bosses, managers, supervisors and/or fellow employees simply because of characteristics of that employee – we are talking about an employee's status in a protected class.
No employee should be forced to endure discrimination by an employer, especially if that discrimination is based on that employee's status in a protected class. Under New Jersey's Law Against Discrimination ("the LAD") there are many protected classes and therefore several different types of employment discrimination, including:
Marital Status Discrimination
As well as several others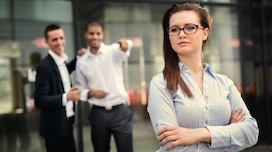 The LAD allows an aggrieved employee various avenues for redress for workplace discrimination including reinstatement, lost wages, punitive damages, reasonable costs, and attorney's fees. An employer will be liable for compensatory damages if the employer's conduct was negligent or reckless. An employer can be liable for punitive damages in the event of actual participation by upper management or willful indifference. Additionally, for a claim brought under LAD, the prevailing party may be awarded reasonable attorney's fees.
At Mashel Law we believe that no employee should be treated differently because of that person's status in a protected class. If you feel you are the victim of discrimination at the hands of your employer due to your status in a protected class, or for any other reason, do not hesitate to call our office to speak to one of our experienced attorneys.