Discrimination Claims
Unfortunately work place discrimination is a problem that is all too common. Discrimination in the work place occurs when certain employees are treated differently or worse by their bosses, managers, supervisors, and/or fellow employees simply because of characteristics of that employee – we are talking about an employee's status in a protected class.
The following are class characteristics protected under both federal and state employments laws:
As well as several others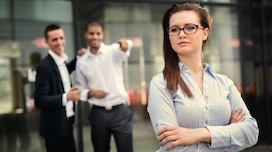 No employee should be forced to endure discrimination by an employer, especially if that discrimination is based on that employee's status in a protected class. The essence of discrimination…is the formulation of opinions about others not on their individual merits, but on their membership in a class with assumed characteristics." Jansen v. Food Circus Supermarkets, Inc., 110 N.J. 363, 378 (1988). The New Jersey Legislature has declared "that practices of discrimination against any of its inhabitants…are matters of concern to the government of the State, and that such discrimination threatens not only the rights and proper privileges of the inhabitants of the State but menaces the institutions and foundation of a free democratic State." N.J.S.A. 10:5-3. Thus, it is the clear public policy of the State of New Jersey to abolish discrimination in the work place. Fuchilla v. Layman, 109 N.J. 319, 334 (1988). To effectuate this clear public policy articulated by our elected legislators, the New Jersey Law Against Discrimination, N.J.S.A. 10:5-1 to -49 (the "LAD"). As so eloquently stated, the overarching goal of the LAD, "is nothing less than the eradication of the cancer of discrimination." Fuchilla, supra., 109 N.J. at 334. Indeed, "[f]reedom from discrimination is one of the fundamental principles of our society." Lehman v. Toys R' Us, 132 N.J. 587, 600 (1993). As remedial legislation, the LAD is to be construed with a "high degree of liberality". Andersen v. Exxon Co., U.S.A., 89 N.J. 483, 495 (1982). "… our courts have found that, 'the more broadly [the LAD] is applied the greater its anti-discriminatory impact.'" Ibid. (quoting L.W. ex rel. L.G. v. Toms River Regional Schools Bd. of Educ., 189 N.J. 381, 400 (2007)).
The LAD renders it unlawful discrimination "[f]or any person to take reprisals against any person … or to coerce, intimidate, threaten or interfere with any person in the exercise or enjoyment of … any right granted or protected by this act." N.J.S.A. 10:5-12(d). Furthermore, N.J.S.A. 10:5-12(d) makes its unlawful for an employer to retaliate against an employee for asserting his or her rights under the LAD. It is unlawful:
[f]or any person to take reprisals against any person because that person has opposed any practices or acts forbidden under this act or because that person has filed a complaint, testified or assisted in any proceeding under this act or to coerce, intimidate, threaten or interfere with any person in the exercise or enjoyment of, or on account of, any right granted or protected by this act.
N.J.S.A. 10:5-12(d)
An employee who proves they were the victim of discrimination is entitled to recover lost wage damages, emotional distress damages, punitive damages, and reasonable attorney fees from the offending employer. Economic damages may take the form of lost "back pay" and "front pay". Lost back pay is calculated from the time loss of pay began to accrue (e.g., date of discharge) through to the date of trial. Front pay asks the jury to project forward in time and measures the ongoing economic harm, continuing after the final day of trial, which may be experienced by a plaintiff who has been wrongfully discharged in violation of the LAD. To recover a front pay award, an employee must prove: (1) what s/he would have earned had s/he not suffered the wrong allegedly committed by the employer, (2) how long s/he would have continued to receive those earnings, and (3) a reasonable likelihood that s/he will not be able to earn that amount in the future, such as through alternative employment. N.J. Model Civil Jury Charge 2.34. As to emotional distress damages, an employee who receives a favorable verdict is entitled to fair and reasonable compensation for any emotional distress proximately caused by the adverse employment action taken by the employer against the employee. N.J. Model Civil Jury Charge 2.36. "Emotional distress" includes embarrassment, humiliation, indignity, and other mental anguish. Id. For an employee to claim future emotional distress, s/he must offer expert testimony as to the permanency of the distress. Battaglia v. United Parcel Service, Inc., 214 N.J. 518, 551-55 (2013).
N.J.S.A.
10:5-12(e) provides that it is unlawful, "For any person, whether an employer or an employee or not, to aid, abet, incite, compel or coerce the doing of any of the acts forbidden under this act, or to attempt to do so." To hold an employee liable as an aider and abettor, a plaintiff must show that: (1) the party whom the defendant aids must perform a wrongful act that causes an injury; (2) the defendant must be generally aware of his role as part of an overall illegal or tortious activity at the time that he provides the assistance; and (3) the defendant must knowingly and substantially assist the principal violation.
Tarr v. Ciasulli
, 181 N.J. 70, 84 (2004), (quoting
Hurley v. Atlantic City Police Dep't
, 174 F.3d 95, 127 (3rd Cir.1999)). Applying these general principles, courts have found individual defendants liable under LAD when, for example: (a) they act to embolden other acts of discrimination (
Ivan v. County of Middlesex
, 612 F.Supp.2d 546, 554 (D.N.J. 2009); (b) they flout their duty as supervisors to act against harassment, including indifference thereto, thereby creating liability for his "himself and his employer" (
Hurley
, 174 F.3d at 126; see also
United Stated v. Sain
, 141 F.3d 463 (3 Cir. 1998); or (c) when they promote the interests of the defendant employer when they harass or commit other unlawful acts under LAD against the Plaintiff.
Shepherd v. Hunterdon Development Center
, 226 N.J. Super. 395, 426-427 (App. Div. 2001), aff'd in relevant part, 174 N.J. 1 (2002).
If you believe you have been, or are currently the victim of workplace discrimination, do not hesitate to call to speak to one of the experienced attorneys at Mashel Law.