Disability Discrimination
New Jersey Prohibits Disability Discrimination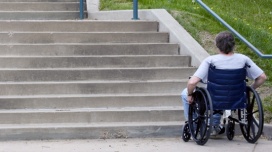 New Jersey's Law Against Discrimination (LAD) prohibits, among others, unlawful employment discrimination against any person by reason of disability. Our New Jersey Supreme Court has declared that, "The paramount purpose of the statute is to secure to handicapped individuals full and equal access to society, bounded only by the actual physical limits that they cannot surmount." The attorneys at Mashel Law are well experienced in the handling of workplace discrimination claims.
There exist two distinct categories of disability discrimination claims under the LAD, "disparate treatment discrimination" and "failure to accommodate". Generally speaking, in "disparate treatment" disability cases, the employer if found to have treated disabled persons less favorably than others. In "failure to accommodate" cases, the issue is whether the employer acted reasonably or in good faith through participation in an "interactive process" with the employee to determine whether a disabled employee could be reasonably accommodated without causing an undue hardship to the employer or a coworker.
To establish a case of a disability discrimination under New Jersey's LAD, an employee must demonstrate that: (1) he/she is disabled or perceived to have a disability; (2) he/she was otherwise qualified to perform the essential functions of the job, with or without reasonable accommodation by the employer; and (3) he/she suffered an adverse employment action because of the handicap or disability.
Definition of Disabled
The LAD has a very broad definition of handicapped or disabled. The LAD defines "handicapped" as "suffering from any physical disability…which prevents the normal exercise of any bodily or mental functions or is demonstrable, medically or psychologically, by accepted clinical or laboratory techniques." This definition is liberally construed.
Essential Functions of the Job
After establishing that a plaintiff's physical disability satisfy the definition of "handicap" under LAD, attention in a disability discrimination claim turns to determining whether or not a plaintiff is qualified to perform the essential functions of her job with or without an accommodation. To satisfy his/her burden, a plaintiff need only show that he or she could perform the essential or fundamental functions of the job, not that he or she was able to perform all job functions
Reasonable Accommodations
New Jersey courts have consistently held that employers are required to reasonably accommodate an employee's handicap or disability. An accommodation is any change in the work environment or in the way things are customarily done that enables an individual with a disability to enjoy equal employment opportunities. Accordingly, an individual may not be denied employment opportunities because of a handicap or disability unless the nature and extent of the handicap reasonably precludes job performance.
Examples of a reasonable accommodation include, but are not limited to, job restructuring, part-time or modified work schedules and/or leaves of absence. These regulations further provide that "[a]n employer shall consider the possibility of reasonable accommodation before firing, demoting or refusing to hire or promote a person with a disability on the grounds that his or her disability precludes job performance." N.J.A.C.,13:13-2.5(b)(2) These examples of reasonable accommodation "reflect a goal to eliminate barriers in the work environment." A.D.P. v. ExxonMobil Research and Engineering Co., 428 N.J. Super. 518, 543 (App. Div. 2012). Once a request for an accommodation is made, "both parties [employer and employee] have a duty to assist in the search for appropriate reasonable accommodation and to act in good faith." Tynan v. Vicinage 13 of Superior Court, 352 N.J. Super. 385, 400 (App. Div. 2002). To be sure, "[i]t is not necessary that requests for reasonable accommodations be in writing or even use the phrase 'reasonable accommodation.' Id. (citing Taylor v. Phoenixville School District, 184 F.3d 296, 313 (1999)). "[T]here are no magic words to seek an accommodation". Id.
"To determine what appropriate accommodation is necessary, the employer must initiate an informal interactive process with the employee. This process must identify the potential reasonable accommodations that could be adopted to overcome the employee's precise limitations resulting from the disability…Once a handicapped employee has requested assistance, it is the employer who must make the reasonable effort to determine the appropriate accommodation." Tynan, supra., 352 N.J. Super. at 400. The purpose of the informal, interactive process is to "identify the precise limitations resulting from the disability and potential reasonable accommodations that could overcome those limitations." See 29 C.F.R. § 1630.2(o)(3); Victor v. State, 203 N.J. 283, 414 (2010)
Remedies
The LAD allows an aggrieved employee various avenues for redress for disability discrimination including reinstatement, lost wages, and emotional distress damages. An employer will be liable for compensatory damages if the employer's conduct was negligent or reckless. An employer can be liable for punitive damages in the event of actual participation by upper management or willful indifference. Additionally, for a prevailing party under LAD may be awarded reasonable attorney's fees and costs.
If you believe you are the victim of disability discrimination in the workplace, do not hesitate to contact the attorneys at Mashel Law. Mashel Law located in Marlboro (Monmouth County), New Jersey, is dedicated exclusively to protecting the rights of employees.